There is a good chance you are reading this page because you have been a victim of a break & enter or know of a friend, family member, or local business that was victimized. In a perfect world we would not have to lock our doors, protect our family or possessions, and there would be no need for this site. Back to reality there are break-ins happening 24 hours a day.
Alarm stickers are a first line of defense they act as a preventative measure to possibly scare off potential thieves.
Alarm systems are a second line of defense they only sound or alert when there is a break-in or if a sensor goes off.
Police or security services that respond to a possible break-in are a third line of defense.
In some cities the police will not respond after 1 or more false alarms.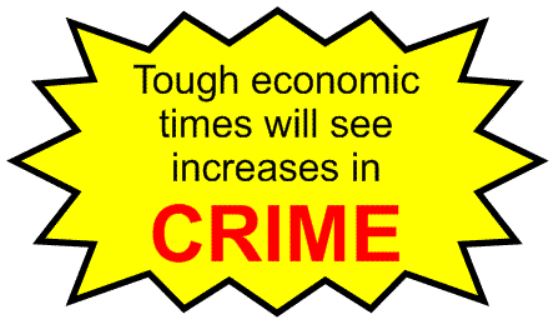 Having an actual alarm system can help in your second line of defense. Alarm systems can cost hundreds to thousands of dollars to install. Alarm monitoring can add $300 to $400 per year in additional monitoring costs, plus some companies have long contracts. One friend, over a 10-year period, spent more than $7000, averaging $700 a year. If you have funds like this or can claim it as a business expense, this may be the route to go.
For people who cannot afford an actual alarm system or people who have an alarm but cannot afford the expensive monthly monitoring charge, we offer a FIRST LINE OF DEFENSE Alarm Stickers for a one-time low fee! *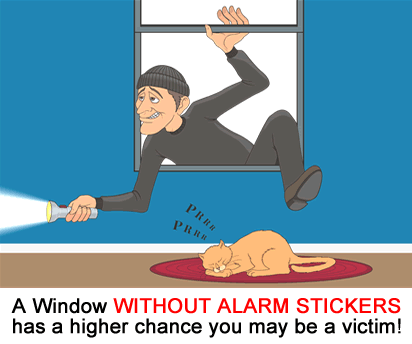 These professional SECURITY SYSTEM STICKERS / DECALS were designed for maximum visibility and sticker life. The BLUE printed color will not fade like other stickers on the market printed in RED.
On various talk shows, professional thieves have been invited to be guests.
They said SECURITY SYSTEM STICKERS are the best DETERRENT anyone could use!
These stickers are being offered for sale to individuals and businesses who already have an alarm system, or cannot afford to have one installed. They are not meant as a replacement for an actual alarm system, but rather as a DETERRENT! Even with an alarm system, the cost of a sticker is a lot less than replacing a window should someone decide to break in. These stickers MAY just deter someone from even trying!These stickers are highly visible, 3.25 x 4.25 inches and are made of long lasting vinyl. They have a strong peel and stick backing and will stick to the outside of windows, steel doors, and even apartment doors. Most people that already have alarms hope there is never a need for it. These stickers may put doubt in the minds of many would-be thieves. An alarm only works if a burglar's presence is picked up by a sensor. These stickers may just keep people from even bothering to try! We do not advertise the complete details of these stickers in order to keep would-be thieves from looking for a certain sticker.
To order security stickers for your home or business, with no obligation to buy an actual alarm or monitoring, print & fill out the order form page:
*PLEASE NOTE – the sale of these stickers and the practice of placing security stickers on your home or business with or without a security system are being offered as a DETERRENT ONLY- USE AT YOUR OWN RISK. The purchaser releases the seller of any liability for any acts of crime they may be victim to. If you feel you need an actual alarm system, please contact your insurance company or local zoning officials before making any purchases.